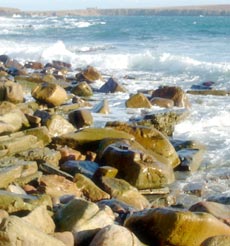 Things to do ....
Beaches and coastal walks are right on your doorstep.
Less than two miles from Cauldhame, the village of St Margaret's Hope offers a Taste of Scotland restaurant, shops, pubs, golf, tennis and bowling.
St Margaret's Hope also houses the Smiddy Museum, featuring tools and artefacts once used by the local smith.
The Hoxa Tapestry Gallery, Tomb of the Eagles, Churchill Barriers and Italian Chapel are all within a 15-minute drive.
The Howe of Hoxa is a mound concealing a ruined broch, and is reputed to be the place where Earl Thorfinn Skull-Splitter was buried around 970 AD.
The Sands O' Wright, is a sandy beach in Hoxa, South Ronaldsay and is the venue for the annual boys Ploughing Match.
The Tomb of the Eagles is a chambered tomb dating from approximately 3000 BC. The name comes from the many sea eagle talons and bones found among the burials.
There is a breeding ground for grey seals at nearby Windwick Bay.
Orkney's main town, Kirkwall, with its palaces and Norse cathedral, is a 20-minute drive away.